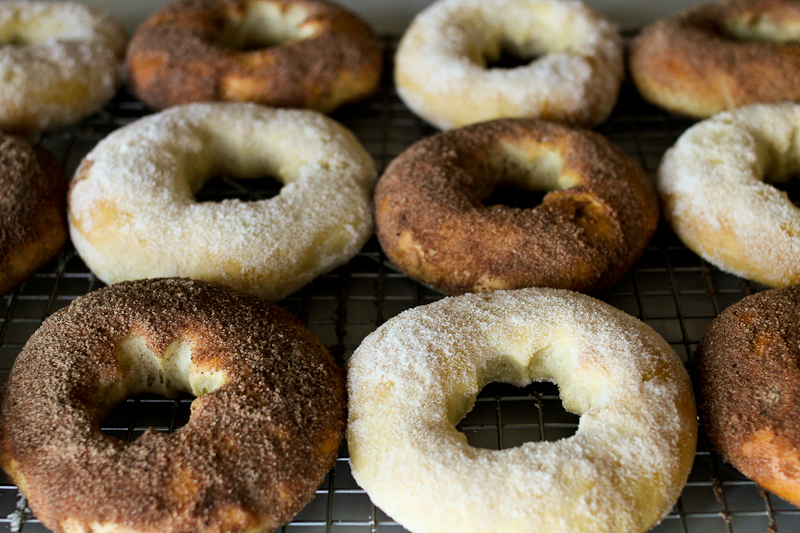 My kids love donuts. I'm really not crazy about giving them the commercial ones ladden with fats and sugars, so here is an alternative for all of you who feel the same. It's faster and easier with a Kitchen Aid (use the dough hook), but it can be done by hand as well. I have adapted and simplified the recipe from this year's Food & Wine Annual Cookbook
3 cups flour
1 tbsp active yeast / 50 gr bakers yeast
4 tbsps brown sugar
2 tsps salt
1/2 tsp gr. cinnamon
3/4 cup / 180 ml milk
1 large egg
1 large egg yolk
4 oz / 115 gr butter, softened
4 tbsp butter, melted
sugar to coat
Grab a large bowl and add milk, yeast, egg and egg yolk. Mix to blend.
Then add flour, sugar, salt and cinnamon. Start stirring and then mix in the softened butter.
Beat the dough on medium speed until it pulls away from the bowl. About 6 min.
Transfer the dough to a large bowl greased with butter. Cover and let stand until double in bulk. About 1 hr depending on the room temperature.
Punch down the dough and let it rise until double in size once more.
Prepare 2 baking sheets with parchment paper or use silpat mats.
Cut the dough into 12 pieces. Roll each into a ball and press down. See below.
Stamp out the center using a 1″ / 2.5 cm round cutter (or flower). Cover with plastic wrap and let rise again for about 1 hour.
Preheat the oven to 400F/205C.
Bake the donuts and holes for about 10 min. Shift the pans from top to bottom and rotate half way through. They should be lightly golden when done.
Brush the warm baked donuts with melted butter and dip in a bowl of sugar.
Enjoy warm.
Suggestions
All the birthdays in my family are within 5 weeks this time of the year. I made a batch of these and froze them. The morning of a birthday, I simply heated these for 6 min at 350F/175C and I had some very happy children. I added some cocoa powder to half of the sugar. You could also spice up the sugar with added cinnamon, nutmeg or whatever you are in the mood for…