Wild Rice Salad With Pomegranate & Greens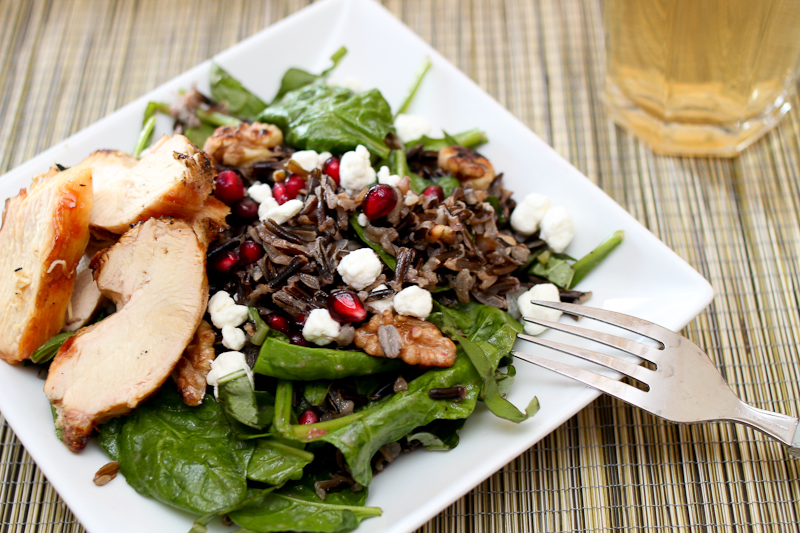 Yum! This salad has it all. Crunch from the toasted walnuts, tart sweetness from the pomegranates, the goat cheese provides smoothness, the rice has just the right chewiness and the greens keep it fresh. Can you tell that I absolutely fell for this salad? Who cares that it takes closer to 1 hour to make, it is so worth it! I found it in Super Natural Every Day with fresh cherries instead of pomegranate. The first cherries hit the Farmers Market this weekend. I will wait a week or two to try that version too. The sweetness will peak, the price won't. If you want to make this salad out of season, then I suggest you add dried cranberries to the salad and a small handful of frozen, thawed raspberries for the dressing.
3 cups / 720 ml wild rice
2-3 handfuls of baby spinach
2/3 cups / 160 ml walnuts, toasted
Seeds from 1 pomegranate (save 3 tbsp for the dressing)
1/4 cup / 60 ml goat cheese, crumbled
A few basil leaves
Cook wild rice according to instructions (you double the water and it takes 45-50 min).
When done, let the rice cool slightly, then mix in the spinach, walnuts and pomegranate seeds and top with basil and goat cheese.
Pomegranate vinaigrette
1/2 cup / 120 ml olive oil
1/4 cup / 60 ml rice vinegar
3 tbsp pomegranate seeds
1/2 tsp honey – depending on the sweetness of the pomegranate seeds
Blend all ingredients with a handheld blender (or regular blender or food processor) and season with salt & pepper.