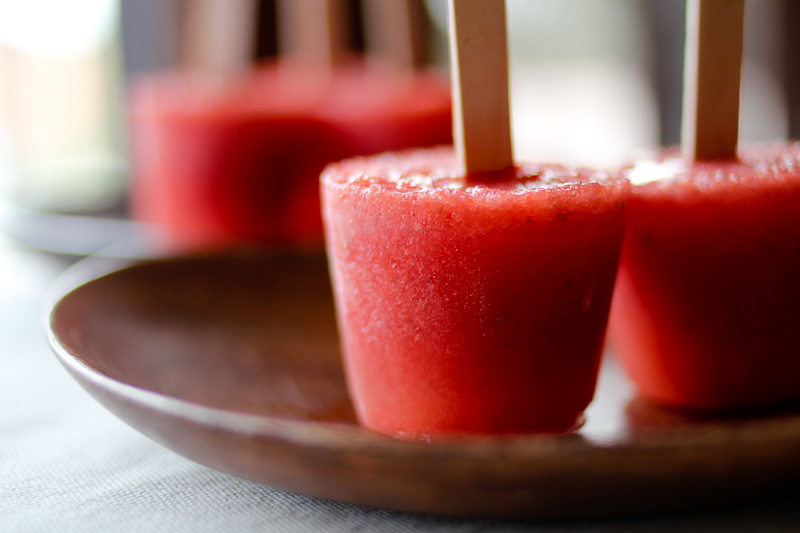 This is a cooling repost from a hot day in Los Angeles not too long ago:
If you have been looking for a sweet, healthy, refreshing treat in the heat – well look no further. These watermelon strawberry popsicles must be your answer. If you need instant gratification, because the temperatures are way up there (read 100sF/40sC) or you are in the mood, well then you don't even have to freeze them. It is an equally amazing smoothie.
1/2 small watermelon
8 0z / 150 gr  frozen strawberries
12 0z / 350 ml water
2 tbsps acacia honey
Wooden sticks
Ice cream molds or small paper cups
Cut the watermelon into chunks and blend with the water until smooth.
Strain the watermelon juice to get rid of the seeds and pour back into the blender. Skip this step, if using a seedless watermelon.
Add the frozen straberries and agave nectar and blend until smooth.
Adjust sweetness to your taste and enjoy over ice or pour the strawberry watermelon juice into ice cream molds and freeze.
Set your timer for about 30-45 min, then add the wooden sticks to the popsicles and freeze for another 4 hrs or overnight.
Yields 5 cups / 1.25 liter
Suggestions
If you don't have ice cream molds, be creative and use small glasses or other little containers. I used 3 oz bath cups.