Roasted Hazelnut Chocolate Bites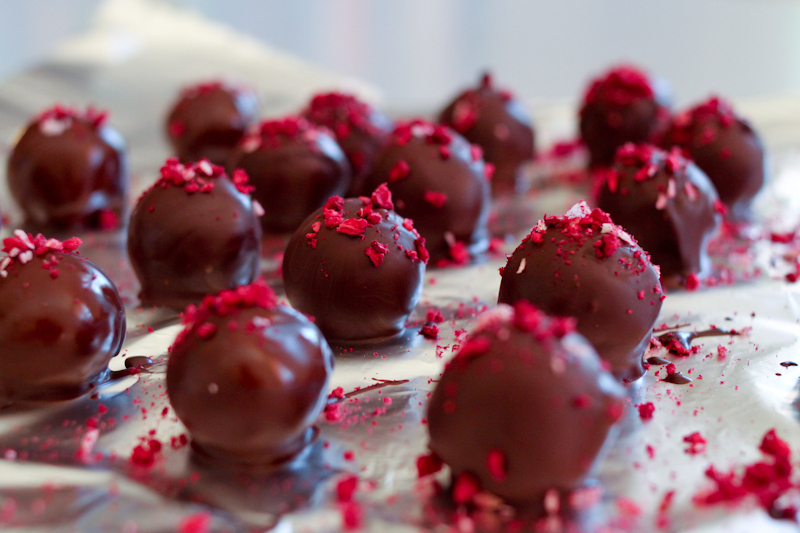 A few things that are good to know. Don't skip roasting the hazelnuts. Roasting is where the magic happens. The magic that brings out the flavors of gianduja. Use Medjool dates, if you have a choice, because they are moist and sweet. You can dip the bites in dark chocolate. You can also roll them in coconut, cocoa powder or chopped roasted nuts. They contain no sugar. They are good for you. They are addictive.
Roasted hazelnut chocolate bites
1 cup / 2,5 dl  roasted hazelnuts
1 cup / 2,5 dl (200 gr) pitted dates
2 tbsps cocoa powder, unsweetened
1 tbsp coconut oil
1/2 tsp vanilla extract
Dash of salt
100 gr 70 % dark chocolate, optional
2 tsps freeze dried raspberries, optional
Roast the hazelnuts on a pan over medium heat until they smell delicious. Use your nose. It takes a few minutes.
Rub off  as much as the peel as you can by putting the nuts in a cloth. It's a bit messy and won't be perfect. Just rub off what you can.
Transfer the nuts to a food processor with the cocoa powder. Pulse till fine and set a side in a bowl.
Now put the dates in the food processor with coconut oil, vanilla extract and salt, then pulse until it becomes thick and smooth.
Put everything in the bowl and combine well.
Roll into balls and cool in the fridge.
Eat now or dip in melted chocolate sprinkled with freeze dried raspberries.
Yields 25
Kids love them too!