Very Nutty Macaroons With Chocolate Ganache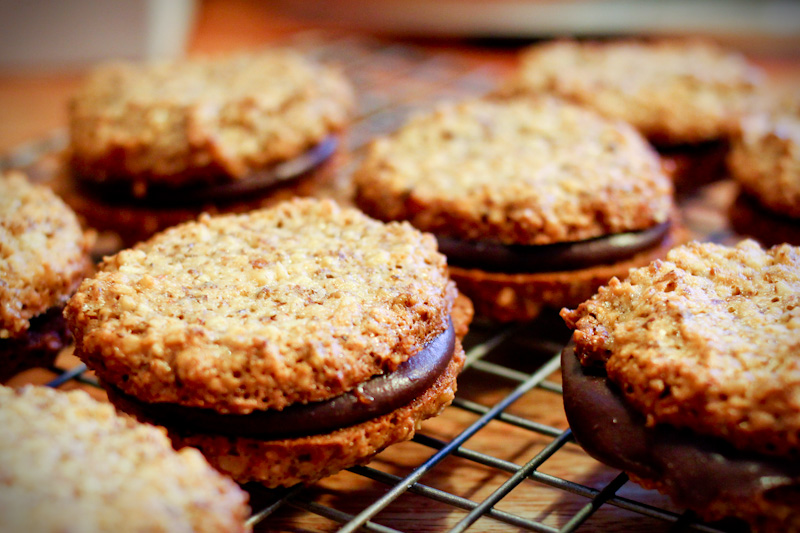 Here is an easy, tasty alternative to an overly sweet store bought cookie. Don't forget almonds are really good for you 🙂 The recipe is inspired by this appetizing book showcasing recipes from one of Boston's best bakeries.
Special equipment: Food processor
3 cups / 450 gr almonds
1 cup / 200 gr sugar
1/4 cup / 60 ml agave nectar
4 egg whites
1/2 tsp almond extract
1/4 tsp salt
Preheat the oven to 350F/175C.
In a food processor, pulse the almonds until ground.
Add the sugar and pulse a few times just until the sugar is incorporated.
Then add agave nectar, egg whites, almond extract and salt.
Pulse just until combined.
Prepare 2 baking sheets with parchment paper.
Dump rounds of batter with a large teaspoon, wet your fingers and flatten each cookie a bit. You should have 40-50 cookies depending on your size.
Bake for 20-25 minutes until the cookies are light golden around the edges.
Let the cookies cool off on the baking sheet, otherwise they will stick to the parchment paper.
Assemble with ganache filling and voila very nutty macaroons…
Ganache filling
4 oz / 115 gr dark chocolate, finely chopped
1/2 cup / 120 ml heavy cream
Heat the cream and take it off the heat just before boiling.
Pour over the chopped chocolate and stir gently until the chocolate melts.
Cover with plastic wrap and set a side until cool. If making the same day then refrigerate.
Store in an airtight container for 3 days or up to a week in the fridge.
Yields 20-25 nutty macaroons