Flaky Almond Pear Tartlets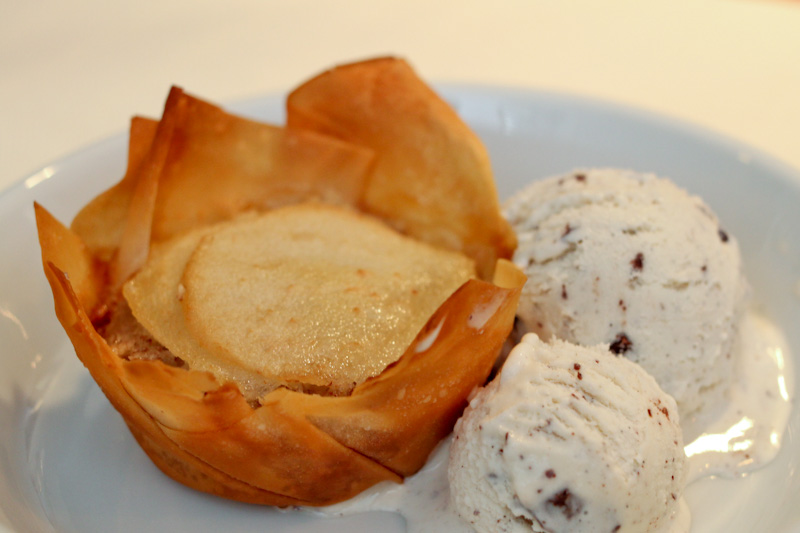 Think marriage between Lebanese baklava and French frangipane, then add some fall pears and you have perfect individual flaky almond pear tarts. After the first tartlet, I thought YUM. After the 2nd, I thought these really are delicious. After the 3rd, I thought, I should have stopped at two. So I suggest serving size one tartlet after a filling meal or two tartlets after a light meal like cauliflower soup with feathery light scones.
I would prefer to serve the tartlets with vanilla ice cream, but the kids chose the version with chocolate.
Special equipment: muffin pan and food processor
2 oz / 55 gr almonds
4 tsps flour
2 oz / 55 gr room temp butter + 1 oz / 28 gr melted butter
1 egg
1/4 cup sugar
1/2 pack phyllo dough
2 pears
In a food processor, finely pulse the almonds with the flour. Set aside.
Add the butter at room temperature with sugar and pulse until combined.
Add the egg and pulse again.
Put the almond flour mixture back in the food processor and combine briefly until the almond cream is smooth. Set aside.
See tips on how to work with phyllo dough here.
Preheat the oven to 350F/175C.
Cut the phyllo dough into squares about 3.5 "/ 10 cm. Brush 3 squares each with melted butter. Layer them together and gently push them into the well-buttered muffin pan. Repeat 8-10 times.
Add a dollop of almond cream to each tartlet.
Peel and slice the pears, then add 2-3 slices on top of each tartlet.
Bake for about 35 minutes or until the tarts are deep golden in color.