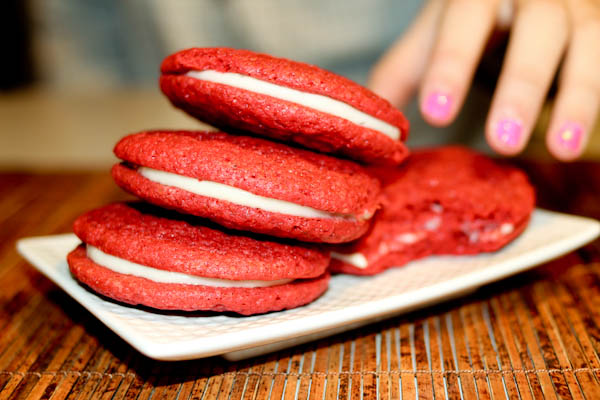 Happy Valentine!
There is snow outside and the kids are off from school all week. It's winter break. This Valentine's Day is quite different from the past ones in LA. While in California the kids would spent days creating and decorating Valentine's containers and on the big day every kid would bring a treat to school to share with their friends. Lots of sweets, but also cards, stickers, crayons etc.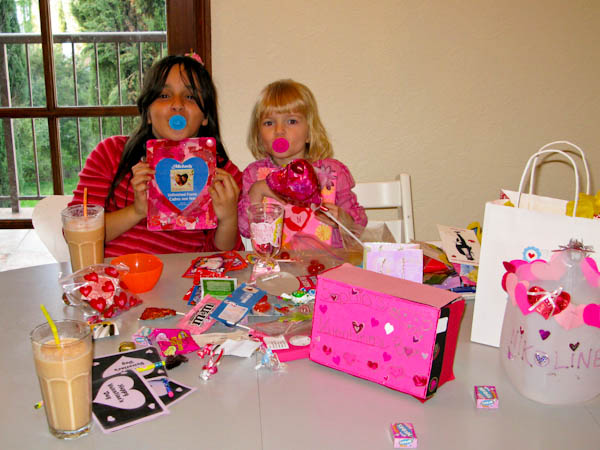 The recipe is adapted by this one from Paula Deen. It makes about 15 whoopies.
Red Velvet Valentine Whoopie Pies
1 1/3 cup / 320 ml flour
2 tbsps unsweetened cocoa powder
1 tsp baking powder
1/4 tsp baking soda
1/4 tsp salt
2 oz / 50 gr butter, room temp.
1 cup / 240 ml sugar
2 eggs, room temp.
2 tbsps buttermilk
1 tsp white vinegar (apple cider or rice)
1 tsp vanilla extract
1 tsp red food coloring
Preheat the oven to 375F/190C.
Mix all the dry ingredients in a small bowl and set aside.
Cream butter, sugar and 1 egg for 2-3 min until fluffy, then beat in the 2nd egg.
Beat in the buttermilk, vinegar, vanilla and food coloring.
Add the dry ingredients to the wet and stir only until combined.
Prepare 2 baking sheets with parchment paper.
Use a tablespoon and drop about 30 dollops of batter.
Bake for 10 min and cool on sheet pan before removing to a wire rack.
Prepare the filling while the cookies cool off completely.
Make them whoopies by spreading the filling between 2 cookies. Repeat.
Share immediately with people you love!
Cream cheese filling
5 oz / 140 gr cream cheese
2 oz / 50 gr butter, room temp.
1/2 tsp vanilla extract
1 1/4 cup / 3 dl powdered sugar
Beat the cream cheese, butter and vanilla extract until completely smooth. Then sift in the powdered sugar.