Cottage Cheese Crepes With Star Anise Strawberries & Sweet Mascarpone Cream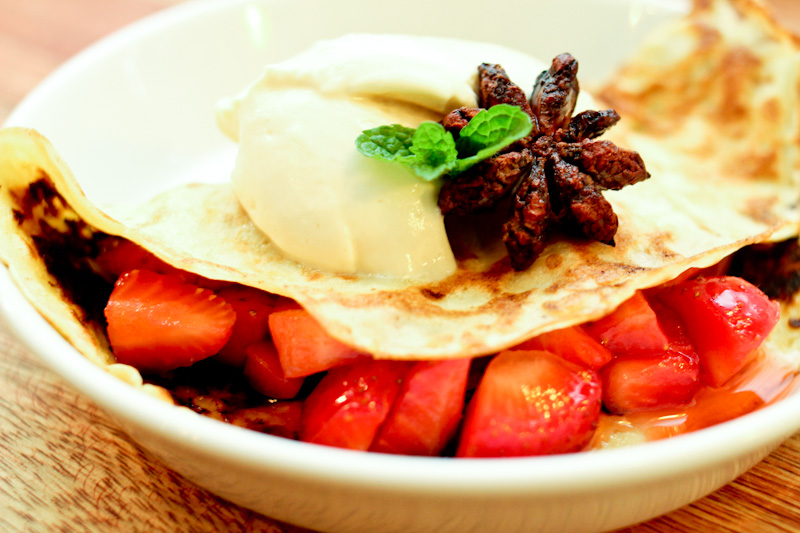 In Britain, pancakes are traditionally eaten on Shrove Tuesday – shrove is from the verb shrive, or confess. It falls on the day before Ash Wednesday, the first day of Lent, when Christians traditionally give up all meat and dairy products. "How pancakes specifically came to be associated with this day in Britain is a mystery," writes food historian Ken Albala in his book "Pancake: A Global History". (Source: www.bbc.co.uk)
Happy pancake day. There are 3 components in this yumminess of a dessert. They are all easy to make and everything can be made in advance.
COTTAGE CHEESE CREPES
This recipe is adapted from a pamphlet from Karoline's Koekken promoting cottage cheese. I was skeptical when I saw the amount of water in the batter, but I am very happy with the result.
3 eggs
1 tbsp agave nectar or honey
1/2 tsp salt
1 cup / 2.5 dl water
1 cup / 150 gr  flour
7 oz / 200 gr cottage cheese
Butter for frying
Whip eggs, sweetener and salt.
Add the flour and whisk until there are no lumps. Then add the cottage cheese.
Let the batter rest in the fridge for 30-60 minutes.
Fry in a small skillet for about 2 minutes, then flip over and bake for no more than 1 minute. The cottage cheese cooks fast and may stick to the pan a bit if overcooked. So watch the crepes, they are so worth it.
Keep warm or cool and reheat later.
Yields 15 small crepes
STAR ANISE STRAWBERRIES
This is a winner. A flavor combo you will want to use again and again over ice cream, with meringue, in cakes or even for breakfast over greek yoghurt with a good home made granola.
1 pound / 450 gr strawberries
2 tbsps cane sugar
5 whole star anise
Cut the strawberries and place them in a bowl.
Sprinkle with cane sugar and add the whole star anise.
Give it a good stir and set aside until ready to use.
Remove the star anise before serving or leave them in because they are beautiful. Just don't eat them.
SWEET MASCARPONE WHIP
Measurements here are only approximate. I used 1 part mascarpone and 1 part whipped cream for a thicker result. You can play with the texture and use different sweeteners as well. So creamy, so good, so versatile.
1/3 cup / 60 ml mascarpone
1/3 cup / 60 ml heavy cream
1 tbsp honey
1/2 tsp vanilla extract
Put all the ingredients in a bowl and whisk into creaminess.
You're done.