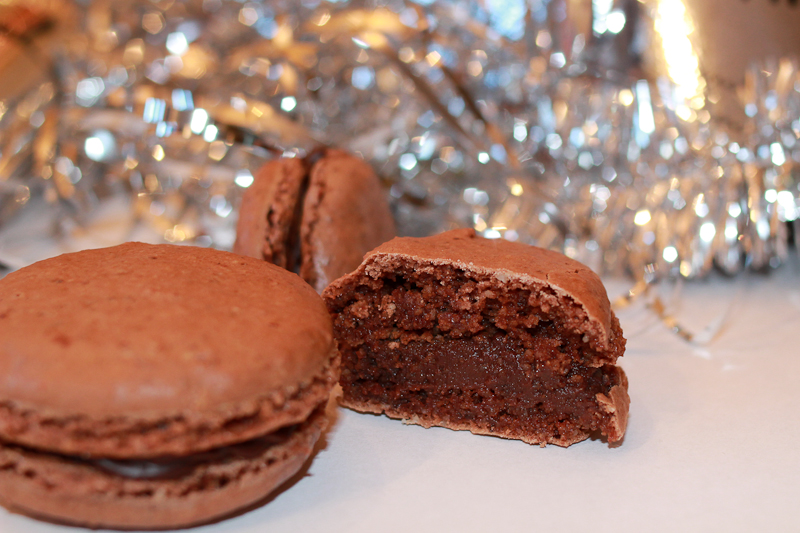 Macaroons became trendy a few years back. I think they are here to stay. For good reasons. Macaroons are delectable. I am posting this  recipe to celebrate the fact that I have passed 30.000 views on my little food blog . Enjoy 🙂
Special Equipment
Pastry bag
Pastry tip, plain, #5
Ingredients
1 pound / 450 gr powdered sugar
2 cups / 255 gr toasted almonds, finely ground
1/2 cup / 120 gr cocoa powder
8 egg whites, room temp.
1 tsp vanilla extract
Ganache filling
8 oz / 225 gr dark chocolate, finely chopped
1 cup / 240 ml heavy cream
Heat the cream and take it off the heat just before boiling.
Pour over the chopped chocolate and stir gently until the chocolate melts.
Cover with plastic wrap and set a side until cool. If making the same day then refrigerate.
Making the macaroons
Preheat the oven to 475F/245C. Prepare two baking sheets with parchment paper.
Sift and blend the powdered sugar (except for 2 tbsp), cocoa and ground almonds.
Add the nut pieces that are too big to get through the mesh, when done sifting.
Whip the egg whites 2-3 min, then add the 2 tbsp of powdered sugar and the vanila extract. Whip until stiff.
Gently fold all the ingredients into the egg whites and immediately transfer to pastry bag.
Pipe the batter in rounds about 1 inch or 2,5 cm in diameter. Pipe out all the batter.
Leave to dry for app 30 min before baking.
Put in the oven and turn down to 425F/220C and bake for 8 minutes.
Remove the cookies from the baking sheet when cool.
Assemble the cookies with the ganache filling and voilà MACAROONS!
The recipe is adapted from Tante Marie's Cooking School.