Sneaky Beany Cookie Scones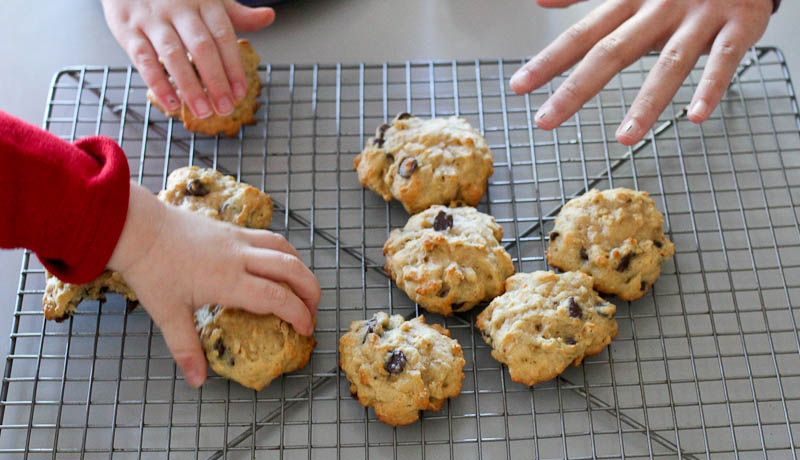 The two little ones keep me creative. One stays clear of protein, the other has a thing with veggies. So what's a mom to do? Well, they love sweets (who doesn't?!), but their bodies really don't need much sugar. However, they do need fiber and protein. So the answer must be to hide what they need in a delicious tempting package: Introducing low sugar chocolate chip cookie scones with oatmeal and white bean puree! Yes, they taste good. No, you cannot taste the beans. And yes, they all asked for seconds 🙂
1/2 cup / 120 ml sugar
1/2 cup / 120 ml agave nectar or honey
6 oz / 170 gr butter
2 eggs
1 1/2 tsp vanilla extract
1/2 cup / 120 ml white beans, pureed
2 cups / 5 dl flour
1 cup / 240 ml oats
1 tsp baking powder
1 tsp baking soda
1/2 tsp salt
1 cup / 240 ml chocolate chips, optional.
Preheat the oven at 375F/190C.
Mix butter and sugars well. Add eggs one at a time.
Add vanilla extract. Add pureed beans.
Mix dry ingredients and add to the butter/sugar mixture.
Mix well and add the chocolate chips, if using, last.
Drop rounded tablespoons of dough onto greased cookie sheet.
Bake for 8-10 minutes.
Yields 3 dozens
Suggestions
You can add ground or chopped nuts to the dough or try adding dried fruits. If you have leftover pureed beans, then freeze for next time or add to your dinner eg. in spaghetti sauce , soup or chili con carne.
Chocolate version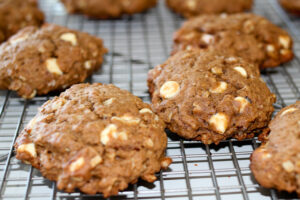 Update May 4, 2011
The kids keep asking me to bake these – even after I have revealed the sneaky ingredient. So the other day when they asked for them, I was out of white beans and had to bake the scones with pinto beans. Pinto beans are light brown and looks in food is important, so I disguised the pinto beans by adding 4 tbsp cocoa powder, substituted dark chocolate chips with white and threw in a handful of chopped walnuts. Now I have to make sure I have both white and pinto beans in my pantry for next time…