Raw Chocolate Fudge With Walnuts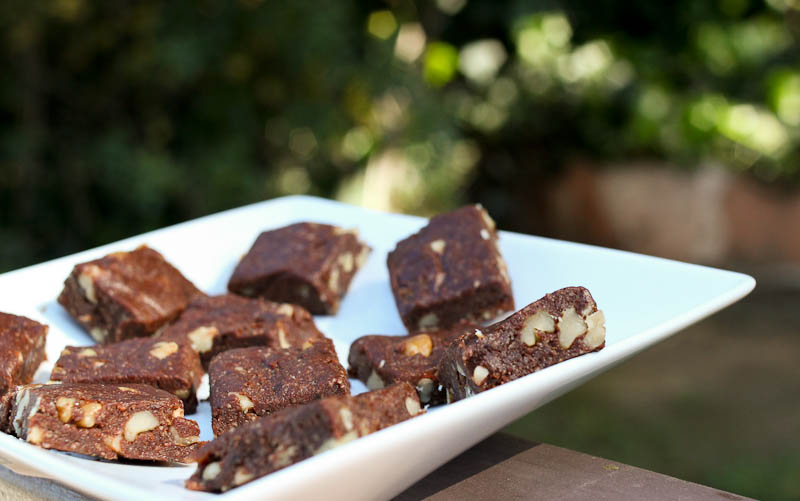 A relative has recently turned to raw food. I like the idea, but not as a full time diet. There are too many appetites to satisfy in my family as it is. But as a special treat, absolutely. I am very open to new ways when it comes to food – and life for that matter. I have a sweet tooth. Surprise. I can get a tiny bit grouchy, if I ignore it too long, but I don't want to put junk in my body. I consider refined white sugar to be in the junk category. Okay, I do indulge in sugar-laden desserts when I go to a restaurant and I love every bite. No reason to hide that. But during the week, I try to treat my body better. So raw sweets sounded like a great compromise. And guess what? Didn't feel like much of a compromise at all. The fudge was a whole lot better than great!
1/2 cup / 120 ml almond meal
1 tbsp coconut oil
6 dates medjool
2 tbsp raw agave syrup
3 tbsp raw cocoa, unsweetened
pinch of salt, preferably pink himalayan
1/2 cup / 120 ml walnuts, chopped
Process all the ingredients except the walnuts in a food processor.
Work in the walnuts and press the fudge flat app  1/2 an inch /1 cm.
Make it square, if you want square bites. Or simply roll into little balls if you prefer that.
Store the fudge in the fridge.
Yields 16 square bites or 20 little balls
Suggestions
Use whole almonds, instead of almond meal. They will crush in the food processor. Try other types of nuts or coconut. If you don't have raw cocao or raw agave syrup, just use regular . You can always substitute agave syrup with honey.