Lemon Buns With Goat Cheese, Walnuts & Dates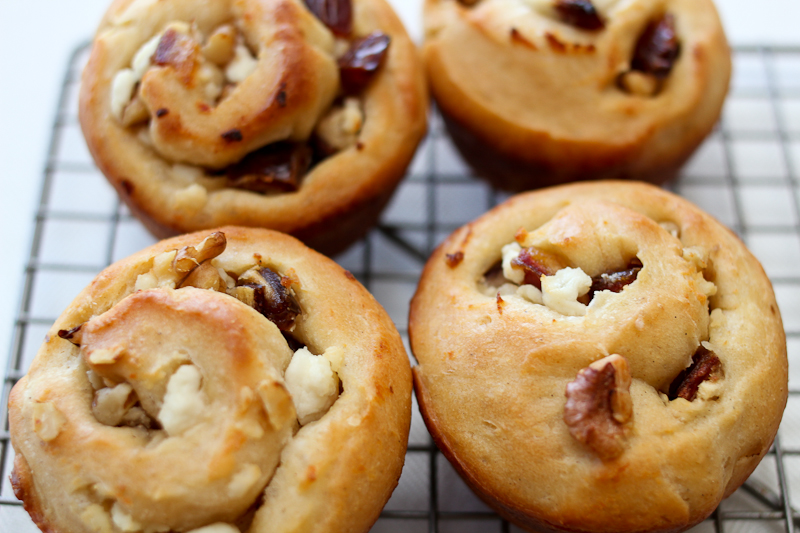 I came up with this recipe not too long ago. The kids in my house have a tendency to request cinnamon buns quite often. So one day I figured I would try to create a more sophisticated version of a rolled bun – here they are. I serve them for brunch or grab one with my afternoon tea. Now that the weather is warming up, I will be taking these for a picnic too. They also freeze well. I made a healtier version of the cinnamon buns as well. I will post that tomorrow.
The dough
7 oz / 200 ml milk
1 tbsp instant yeast / 50 gr bakers yeast
3.5 oz / 100 gr butter, softened
2 eggs
1 tsp zest from organic lemon
2 tbsp sugar
1/2 tsp salt
1 pound and 1 oz / 500 gr flour
The filling
½ cup / 120 ml goat cheese, crumbled
8 medjool dates, cut into small pieces
½ cup / 120 ml walnuts, chopped
The procedure
Pour milk and yeast into a big bowl and stir.
Add the remaining ingredients and knead until the dough is smooth and pliable.
Cover the dough and let rest for about 1 hr or until doubled in size.
Preheat the oven to 400F/200C.
Put a little flour on the counter top to avoid sticking and roll out the dough to a rectangle app 18″x12″ or 45 x 30 cm.
Spread the filling evenly onto the dough.
Roll into a log and cut into pieces app 3/4″ or 2 cm wide.
Put in greased muffin pan. Bake for 12-14 min.
Yields 24