Sweet & Savory Picnic Buns In Descanso Gardens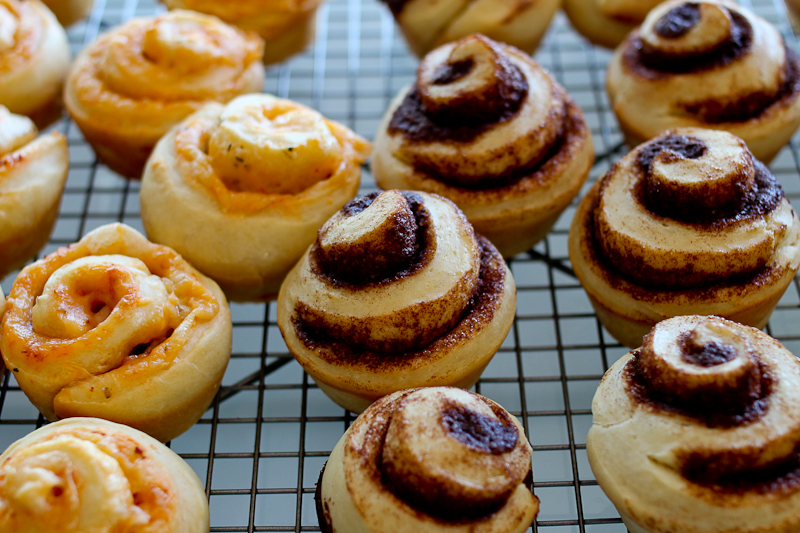 Well, the picnic ended up being enjoyed outside Descanso Gardens, because they don't allow any picnicing inside. Check their website for blooming season, if you plan a visit. It was too hot for many flowers when we went in August. Still a great place to spend an afternoon, though. I used my basic bun dough recipe to bake pizza buns with cheese & ham and sweet cinnamon buns. The dough recipe makes 24 buns, so divide the dough in 2, then roll and fill them separately to make both savory and sweet buns. These are great picnic buns! If you don't finish them all, they freeze well too. Just reheat them after thawing for best result.
The dough
7 oz / 200 ml milk
1 tbsp instant yeast / 50 gr bakers yeast
3.5 oz / 100 gr butter, softened
2 eggs
2 tbsp sugar
1/2 tsp salt
1 pound and 1 oz / 500 gr flour
The procedure
Pour milk and yeast into a big bowl and stir.
Add the remaining ingredients and knead until the dough is smooth and pliable.
Cover the dough and let rest for about 1 hr or until doubled in size.
Preheat the oven to 400F/200C.
Put a little flour on the counter top to avoid sticking. Divide the dough in 2 and roll out each piece of the dough to a rectangle app 18″x12″ or 45 x 30 cm.
Spread the filling evenly onto the dough.
Roll into a log and cut into pieces app 3/4″ or 2 cm wide.
Put in greased muffin pan. Bake for 12-14 min.
Yields 24 (12 pizza & 12 cinnamon)
Double the filling recipes, if you want only one kind of buns.
Filling for 12 classic cinnamon buns
Mix the following ingredients well and spread evenly on the dough:
2 3/4 oz / 75 gr softened butter
1.5 oz / 40 gr sugar
1 tsp flour
1 tbsp cinnamon
Filling for 12 pizza buns
2 tbsp olive oil
2 tsp tomato paste
1 cup / 240 ml shredded cheese
6-8 slices ham
1 tbsp oregano
Mix the olive oil and tomato paste and spread onto the dough.
Spread the shredded cheese evenly, then layer the slices of ham.
Sprinkle with oregano and a pinch of salt and start rolling the dough. See above.