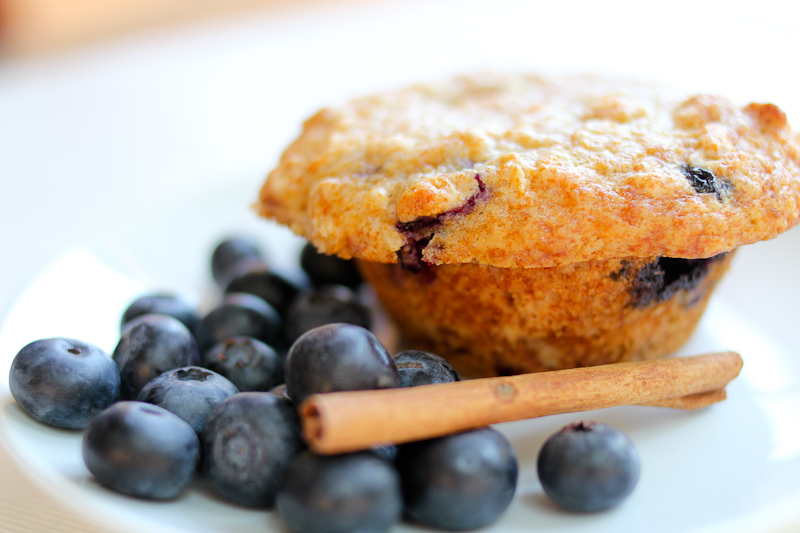 These are delicate healthy muffins loaded with oatmeal, yoghurt and powerberries aka blueberries. Perfect way to start your day or for a quiet moment to recharge your batteries in the middle of the day…It took 5 batches to get this one right, so enjoy 🙂
Speciel equipment: Muffin pan or cups
1 cup / 240 ml flour
1 cup / 24o ml rolled oats
1 tsp baking powder
1 tsp baking soda
1/2 tsp gr. cinnamon
1/4 tsp salt
3 0z / 85 g butter, melted
1/2 cup / 120 ml honey
1 cup / 240 ml plain yoghurt
1 egg
3/4 cup /180 ml  blueberries, fresh or frozen
Preheat oven to 375F/190C.
Put all the dry ingredients in a big bowl and whisk it together.
Put all the wet ingredients in a smaller bowl and whisk them too.
Add the wet to the dry and mix gently until almost completely combined, then add the blueberries. Don't overwork the batter.
Divide the batter in the greased muffin pan and bake for 15-20 min.
These muffins are very light in texture, so leave them in the muffin pan or cups for 1-2 minutes before removing to cool off.
TIP I like to use an ice cream scoop, when I put the muffin batter into the pan or cups. 1 scoop of the # 30 size equals exactly 1 muffin.