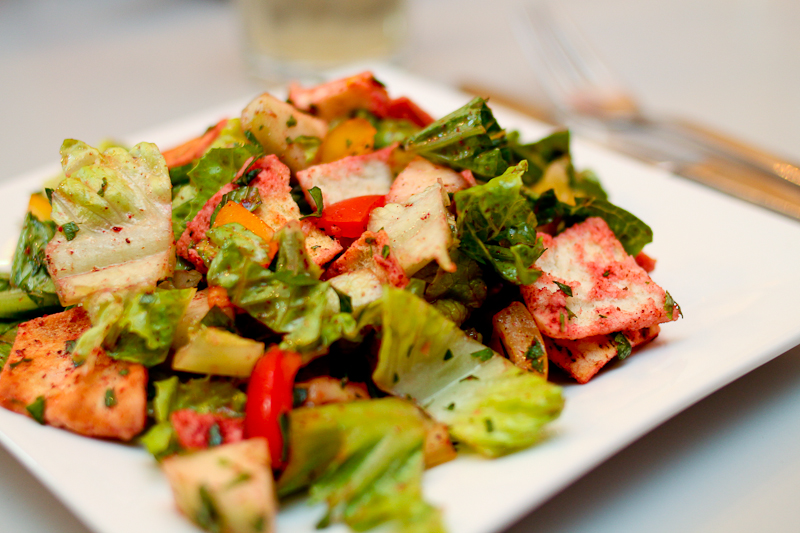 This is a classic Lebanese salad loaded with  fresh herbs, crunchy pita bread and sumak dressing. It is very simple to put together and incredibly flavorful, fresh and addictive. Especially good on a hot day. A dear Lebanese friend shared her recipe with me, thank you Angela. Angela adds sliced radishes to her fattoush. I didn't have any, but feel free to add radishes for extra bite.
1 large head romaine lettuce (or 2 small ones)
1/2 cucumber
2-3 tomatoes
1/2 cup / 120 ml chopped parsley
1/3 cup / 80 ml chopped mint
2 pita breads
Preheat the oven to 400F/200C.
Split the pita breads open and cut into squares and bake until crisp. About 5-7 min. Keep an eye on the pita squares, because they can go from crisp to burned in no time.
Meanwhile prepare the remaining ingredients by chopping the romaine lettuce, cucumber and tomatoes.
Chop the fresh herbs.
Assemble the salad when the pita chips have cooled slightly.
Sumak lemon dressing
1/4 cup / 60 ml olive oil
1/4 cup / 60 ml fresh squeezed lemon juice
1 tbsp powdered sumak
Whisk the ingredients together or shake them in a jar.
Season with salt & pepper.
I bought sumak at the Spice Station, a fun, charming, rustic little gem of a store in Silverlake with all the world's spices and a good selection of teas as well: