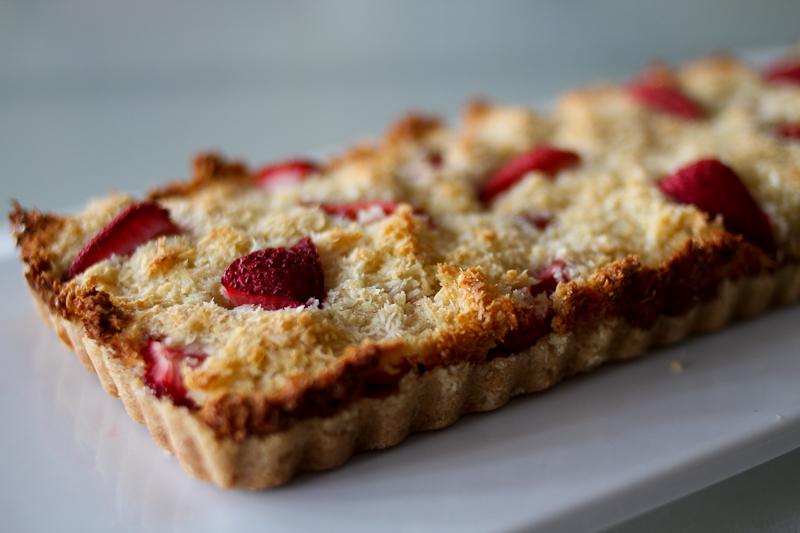 The first recipe I wanted to try after I bought Heidi Swanson's  cookbook Super Natural Every Day was the Macaroon Tart with blackberries. Wow. It was very easy to make and almost as good as it looked. But, a small but, I had imagined the topping would be like biting into a moist and chewy coconut macaroon. It wasn't exactly as I expected. The crust was easy to work with and had just the right crisp and sweetness, but the filling was a little too dry, in my opion. So I set about making the moist chewy filling I had first imagined by adding whole eggs instead of whites, substituting some of the cane sugar with honey (which is hygroscopic ei. it attracts moisture from the air), I also added some vanilla. Blackberries were incredible, but I made my tart with strawberries, because they just smile at me every time I walk into a store and for me nothing says summer like new strawberries. Heidi's version serves a crowd. The more I bake, the more I eat. So I have scaled down the recipe to serve a family and a few friends.
Crust
1 cup / 240 ml flour
1/2 cup / 120 ml unsweetened shredded coconut
1/2 cup / 120 ml cane sugar
1/4 tsp salt
3.5 oz / 100 gr butter, melted
Preheat oven to 350F/175C.
Blend the dry ingredients and moisten the dough with the melted butter.
Simply press the dough into a lightly greased 10″ (25 cm) round pan or as pictured in a 13″ x 4″ (33×10 cm) rectangle pan.
Bake for 10 min and prepare the filling while waiting.
Filling
1 1/2 cup / 360 ml unsweetened shredded coconut
1/4 cup / 60 ml cane sugar
1/4 cup / 60 ml honey
2 large eggs
1/2 tsp vanilla extract
5 oz / 140 gr fresh strawberries, quartered
Mix coconut and sugar well (reuse the bowl from the dough).
In a separate smaller bowl mix the eggs, the honey and the vanilla extract well.
Pour the egg mixture over the coconut & sugar and blend well.
When the crust has finished prebaking, top with 2/3 of the strawberries, then press the coconut filling gently and evenly on top. Decorate by pressing the remaining strawberries lightly into the coconut.
Continue baking at 350F/175C for 30 min or until light golden brown.
Can be enjoyed both warm and cold, with or without ice cream.