Granola bars with blueberries & white chocolate + whale watching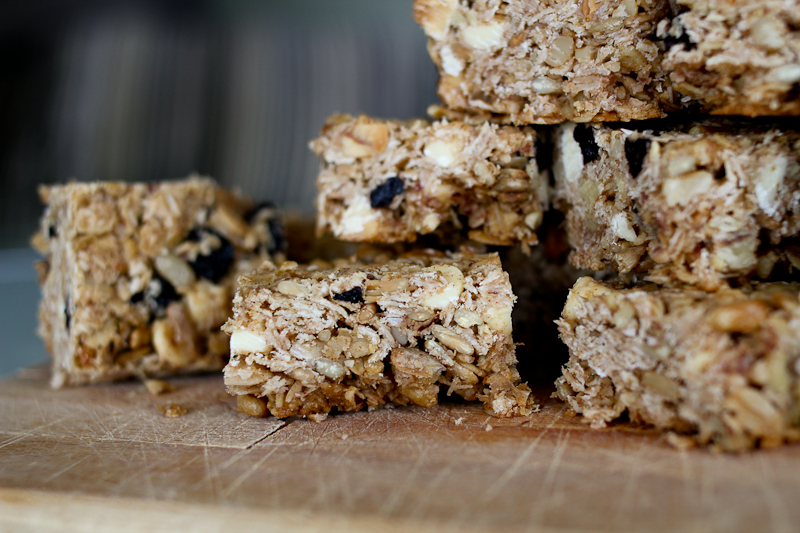 So what does whale watching and granola bars have to do with each other you might ask yourself? Well, for me they went really well together. I went whale watching one morning in the very recent past. It took a good 3 hours and I brought the best snack I can think of for such a trip: granola bars. We sailed out towards the Channel Islands, which are the North American Galapagos – lots of unique wild life. Below us was this extremely deep undersea canyon where the gray whales migrate (and the blue whales and the humpbacks depending on the season) and then we watched for whales to spout. All of a sudden, there they were, the backs of two huge gray whales. Awesome. I was literally in awe. Then they dive. And you wait. The whales only come up for air every 5 minutes, if you are lucky. If not, they stay down for 20 minutes at a time. We followed the couple for a good 30 minutes and enjoyed beautiful views and some tail action. I was so happy. But then I got greedy for more whale action. Maybe they picked up on that, the free spirits. Greed is not good (no matter what Gekko says). I turned my emotions back to being grateful for having been so lucky to see two gray whales up close and another pair spouting in the distance. The ocean is huge and what are the chances after all, right?! Great bars for home or nature… Thanks to Smitten Kitchen for the inspiration.
Granola bars with blueberries & white chocolate
1 2/3 cups /4 dl oats
1/3 cup / 80 ml oats, blended
1/2 tsp salt
1/2 tsp cinnamon
2 cups / 5 dl mixed dried fruits & nuts (I used dried blueberries, white chocolate chips, walnuts, sunflower seeds, unsweetened coconut)
2 tbsp / 50 gr almond butter, optional
6 tbsp / 75 gr butter, melted
1/2 cup / 120 ml honey
1/2 tsp vanilla extract, optional
Preheat oven to 325F/160C.
Oats, cinnamon, salt and a mix of dried fruits & nuts go in a big bowl.
In a smaller bowl stir melted butter, almond butter, honey and vanilla extract.
Stir all the ingredients together until everything is moist.
Take a square cake pan (10″ x 7″ or 26 x 18 cm), coat with parchment paper and add the granola. Take another piece of parchment paper to flatten the bars.
Bake for 25-28 min. Cool completely before cutting. Store in the fridge.
Suggestions
These bars can be varied in so many ways. Use any combination of nuts, dried fruits and chocolate. Add different spices eg. ginger and cardamom. Substitute honey for agave nectar or corn syrup. Add puffed rice. Add flax seeds. Add wheat germ. The bars may crumble a bit when you cut them. You can add more sugar, if you want them more sticky. I prefer them slightly crumbly and less sugary. Also good to know: they freeze really well.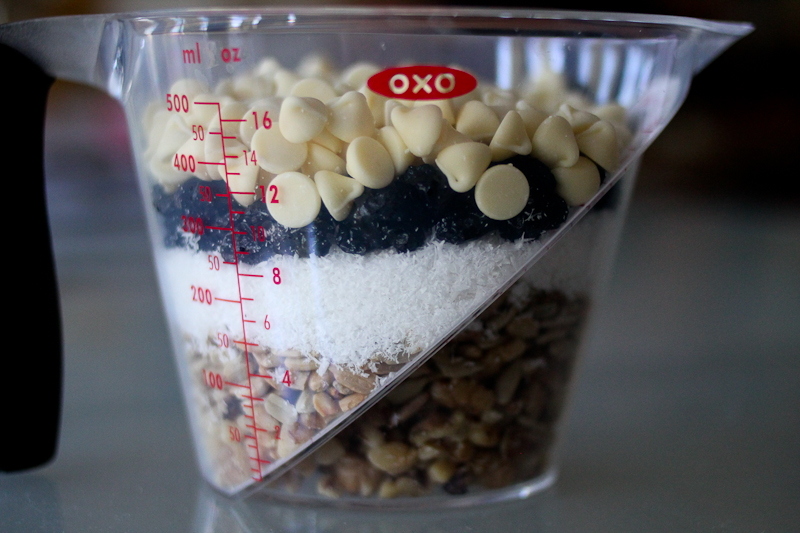 Check out Islands Packers if you are in Southern California and want to see some wild life: