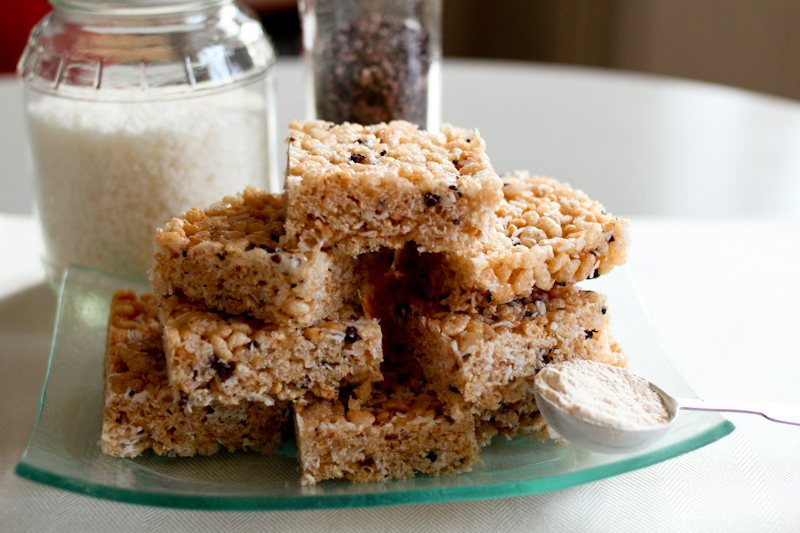 It's a new year, a new beginning and a time to reflect upon your life. Do you have plans or dreams for 2015? And what are you going to do about it… This is the time to start your game plan to be sure that your goals and dreams are within reach!
THINK BIG. If your goal seems to be up there among the stars, then break it down into smaller steps. Just like shedding those holiday pounds. Keep your focus (I'm talking to myself here!). One pound at a time – and always celebrate when you reach next level (but not with chocolate – I'll buy something pretty for the new slimmer me).
So this treat is for the kids lunchbox. It is packed with good stuff like coconut, cocoa nibs and baobab powder, which has a mildly sweet, yet slightly tangy  flavor and is supposedly packed with nutrients.
Rice krispie power bars 
3 cups / 7.5 dl rice krispies
1/2 cup / 1.25 dl shredded coconut, unsweetened
1/4 cup / 60 ml cocoa nibs
1/4 cup / 60 ml acacia honey
1/4 cup / 60 ml cane sugar
1 tbsp coconut oil
1 tbsp baobab powder
Dash of vanilla extract
Procedure
Coat a 9 x 13 inch baking pan with parchment paper.
Mix rice krispies, shredded coconut and cocoa nibs in a bowl and set aside.
In a small pot add honey, sugar and coconut oil. Bring to a boil over medium heat and let simmer until the sugar has melted.
Stir in baobab powder and vanilla extract and pour over  the rice krispies.
Combine everything well, there should be no dry spots.
Pour into the prepared baking pan and press down firmly. I use an extra parchment paper to press down, it gets sticky using your hands.
Cool in the fridge for 30 minutes. Then cut into bites and store at room temperature.
Suggestions
You may replace cocoa nibs and baobab powder with dried fruits and nuts. It's a great afternoon snack for both kids and grown-ups.
If you like the super anti-oxidant cocoa nibs, you may also like this recipe.