Rhubarb Strawberry Dessert With A Very Cool Whip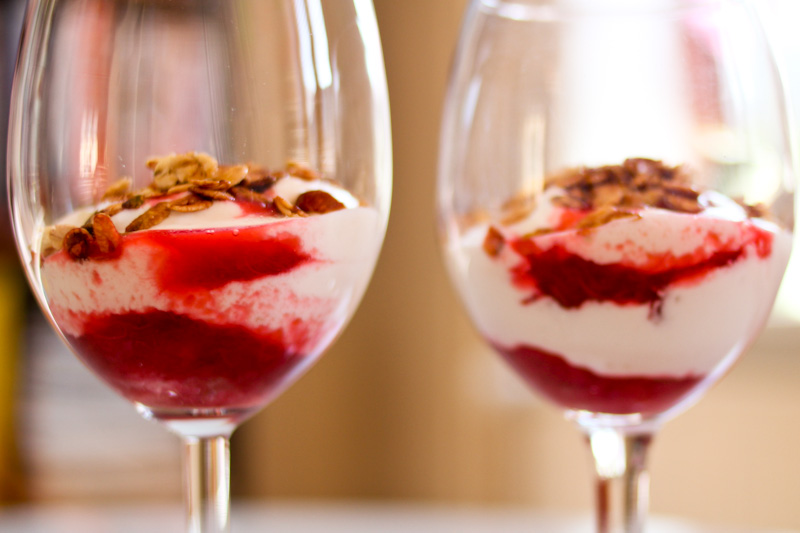 REPOST from June 2012. Rhubarb season is here and this is good stuff.
So this month I am featured in a Danish Magazine called LIV. It's not really about me though, it's an insider guide to my Los Angeles. Lots of places you won't find in the guide books. 3 full pages and it is a worthy read. I am very happy with the article. This dessert is a recipe from the very same June edition. I have tweeked the whip from eggy to cool by adding vanilla and mascarpone.
Rhubarb strawberry compote
1 pound / 450 gr fresh rhubarb
A handful of sweet strawberries
3 oz / 75 gr cane sugar
Wash, trim the ends and cut the rhubarbs into 1/2 inch / 1-2 cm slices.
Put them in a small pot with the sugar. Stir well and let sit until the sugar has dissolved into juices about 20-30 minutes.
Then bring to a boil and let simmer for 3-4 minutes. Cut the strawberries and add them the last minute.
Cool completely before assembling the dessert.
A Cool Whip  (not to be mistaken with cool whip)
3 egg whites
2 tbsps cane sugar
1 tbsp mascarpone
1/2 tsp vanilla extract
Whip the whites and the sugar until firm peaks form.
Add the vanilla extract and the mascarpone cheese and whip until smooth.
Maple oat crunch  (also a fantastic granola)
2 tbsps maple syrup
1 tsp butter
2 oz / 50 gr old fashioned oats
1 oz / 25 gr chopped nuts eg. almonds
Heat maple syrup in a skillet and add oats and nuts.
Stir continuously until the mixture is light golden in color.
Pour on a plate and let cool completely. Store any leftovers in an airtight container at room temperature.