Phyllo Pie With Salmon & Broccoli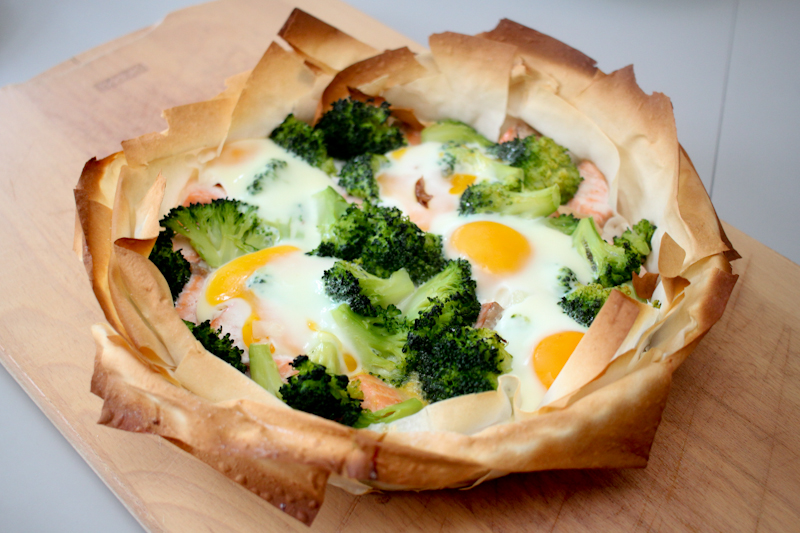 This was a quick shot, but I want to share it with you anyway, because the pie is so cool  looking and simple to make. The next time I make phyllo pie, I may take a better picture.
So here is how I put the phyllo dough from the freezer to good use.
6 sheets of phyllo dough, thawed
2 boneless salmon fillets, skin off
2 cups / 5 dl of broccoli florets
4 large eggs
Some melted butter
Preheat the oven to 375 C/190 F.
Use a spring form cake pan, so you can easily remove the pie when done.
Brush the spring form with melted butter and layer with phyllo dough, brushing each sheet with a thin layer of melted butter.
Steam the broccoli florets a few minutes, then strain well.
Cut the salmon fillets into big chunks.
Place salmon and broccoli in the pie and simply crack the eggs on top.
Season with salt & pepper.
Bake for about 30 minutes or until the eggs are done.
This is not a spicy pie, so serve with chive cream and a good dash of tabasco sauce.
Chive cream
Sour cream with finely chopped chives seasoned with lemon juice, lemon zest, mustard, salt and pepper.
You may also like these sweet recipes with phyllo dough.