Old Fashioned Apple Cake Deluxe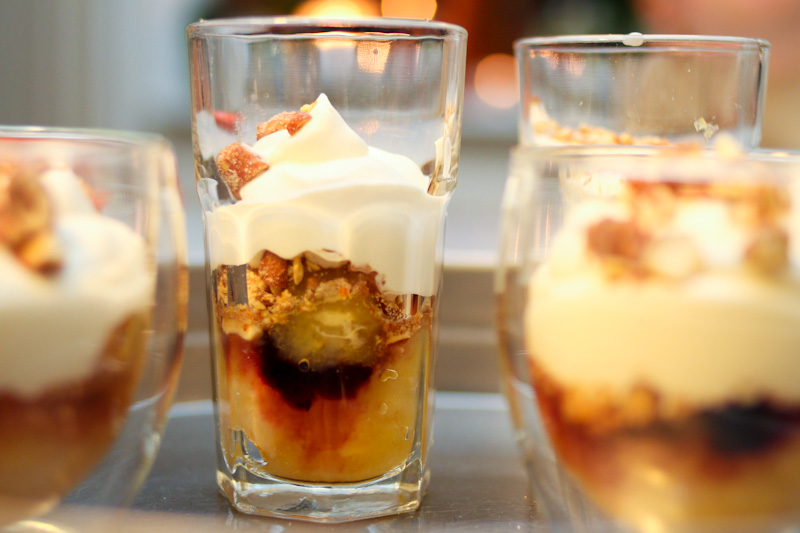 This is a very traditional Danish apple cake or rather trifle. When my grandmother used to make it for me, she made a classic chunky applesauce with apples from her garden, which she layered with strawberry jam, whipped cream and back then butter-fried bread crumbs. This is an updated version of an old classic and one of my favorite fall desserts:
Spiced apple & pear sauce
I added a a few pears to my applesauce for sweetness and simmered the chopped fruits with a bit of cane sugar, a cinnamon stick and a few whole star anise.
Jam
I used a fruit-sweetened currant jam from St. Dalfour. All their jams or preserves are sweetened with fruit juices only. No refined sugar. As far as I know, this is the only purely fruit-sweetened brand on the market and my first choice.
 Candied almonds
Forget bread crumbs. I made candied almonds and crushed them as soon as they had cooled. This time of the year I make candied almonds a lot. It's a fairly healthy treat and takes less than 10 minutes to make.
Chantilly cream
I love that word chantilly cream. It simply means sweetened whipped cream and I added bourbon vanilla extract to mine.
Make as many layers as you wish – preferably in a glass. Close your eyes and enjoy. For me every bite is a sweet trip way down memory lane 🙂