Meyer Lemonade Infused With Herbs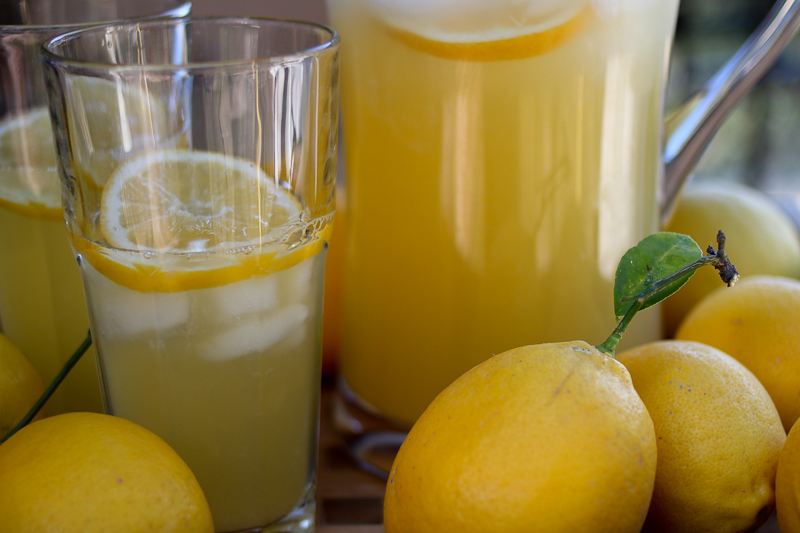 A friend of mine gave me a huge bag of meyer lemons and the first thing that came to mind in this heat was lemonade. Classic lemonade is made with 1 cup / 240 ml fresh squeezed lemon juice and mixed with a simple syrup made of 1 cup / 240 ml sugar and 1 cup / 240 ml water. You make simple syrup by bringing water and sugar to a boil. Boil for a few minutes while stirring occasionally until all the sugar is completely dissolved. Then let it cool. To finish classic lemonade you thin the lemon juice and simple syrup mixture with water until the lemonade is as sweet or tart as you like it.
As you may know by now, I am not a big fan of refined white sugar for many reasons. I try to avoid it (though not fanatically) and I prefer to get my sweet fix with natural sweeteners instead.  So I cut down a bit on the sugar and made a simple syrup with 1 cup / 240 ml water and 1/2 cup / 120 ml honey instead. I added 2 sprigs of fresh mint to the simple syrup for a subtle minty flavor. Don't forget to remove the mint sprigs when the simple syrup has cooled off. Alternatively, you can add fresh mint leaves to the lemonade.
I made lemonade 2 days in a row, because the temperature has been in the high 90sF/30sC and I need to keep the kids hydrated. I also need to put these beautiful lemons to good use before they go bad and they are taking up a lot of room in my not so big refrigerator. Anyway, the 2nd time I made plain honey simple syrup and stayed herbal by adding sprigs of rosemary to the finished lemonade. What pleasant subtle flavors! I was inspired by Lemonade in Venice. The last time I was there, one of their specialty lemonades was watermelon rosemary – and it was surprisingly good. As was my lemonades, if you must know 🙂