Fig Cookie Bars With Walnuts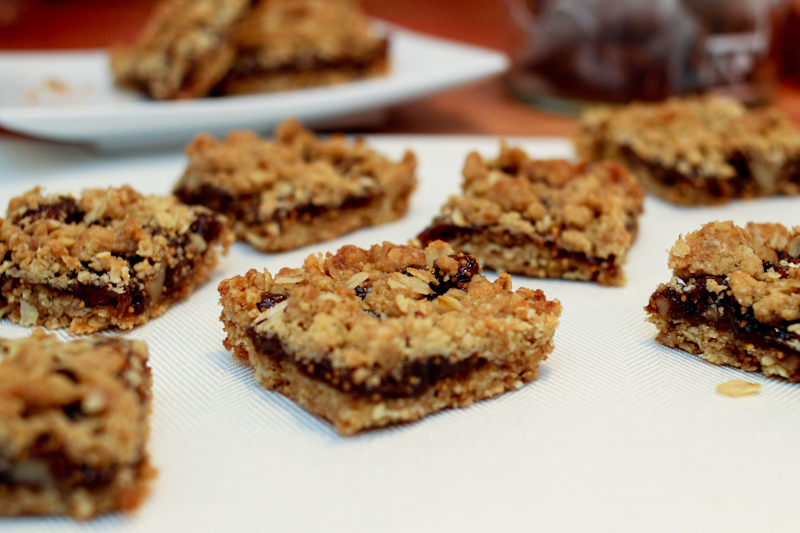 I had some dried figs sitting around in a jar. They didn't really tempt me at all. So since I am very much against wasting food, I made these cookie bars. I figured that with all the figs, walnuts and oatmeal, it was okay to go a little crazy on the sugar content. It was the end of a looong day, you see.
Filling
8 large dried figs, stemmed and chopped
1/3 cup/ 80 ml brown sugar
1/3 cup / 80 ml walnuts, chopped
1/3 cup / 80 ml water
1/4 tsp ground cinnamon
Put all the ingredients in a pot. Bring to a boil and let simmer until it thickens. About 5-7 minutes. Set aside.
Crust & top
4 oz /110 gr  butter, room temperature
1/3 cup / 80 ml brown sugar
1/2 tsp vanilla extract
1/4 tsp salt
1 cup / 2 1/2 dl rolled oats
1 cup / 2 1/2 dl all purpose flour
Preheat the oven to 375F/190C.
Cream butter and sugar.
Stir in the rest of the ingredients and combine until there are no dry spots.
Press 2/3 of the dough into a cake pan (app size 10″ x 7,5″ / 25 cm x 18 cm).
Spread the fig filling on top and crumble the remaining 1/3 of the dough on top.
Bake for about 25 minutes or until the top is golden. Let cool before cutting.