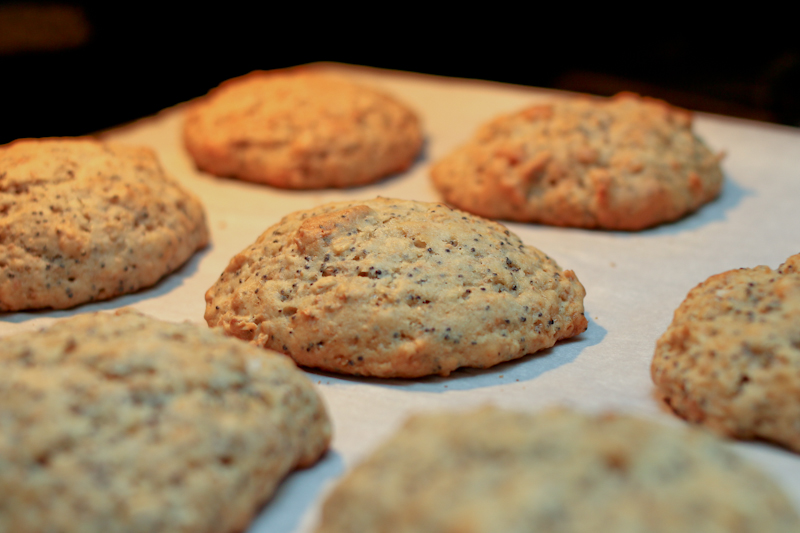 My kids love these scones for breakfast. I do to. Especially because you can grab one on the way out and know that you or your child will get enough roughage to start the day. I always have these in the freezer. Thaw them in the microwave or take them out first thing, when you wake up.
1 egg
0.5 cup /120 ml  sugar
4 tbsp oil
1.5 cups /360 ml flour
0.5 cup/120 ml oats
4 tbsp flax seed meal or wheat germ
2 tbsp poppy seed
1/2 tsp salt
1 tbsp baking powder
1/2 tsp cinnamon
0.5 cup /120 ml milk
Preheat oven at 375F/190C
Whisk egg, sugar and oil together in a big bowl.
Mix all the dry ingredients in a separate bowl.
Add the dry ingredients into the egg mixture.
Add milk and mix well.
Drop the dough in tablespoons onto a baking pan with parchment paper.
Bake for 15-20 minutes. The crust should be golden brown on the sides.
Yields 12 scones
Suggestions
Add lemon or orange zest. Add vanilla extract instead of cinnamon. You can also add berries or nuts for crunch. If you like them dairy-free, just substitute the regular milk for almond or rice milk. The recipe doubles easily and freezes well, when the scones have cooled off completely. If you plan to serve these for a brunch, you can glaze them with a mixture of lemon juice and confectioners sugar or simply dust some of them with confectioners sugar. The recipe is adapted from The Healthy Kitchen.