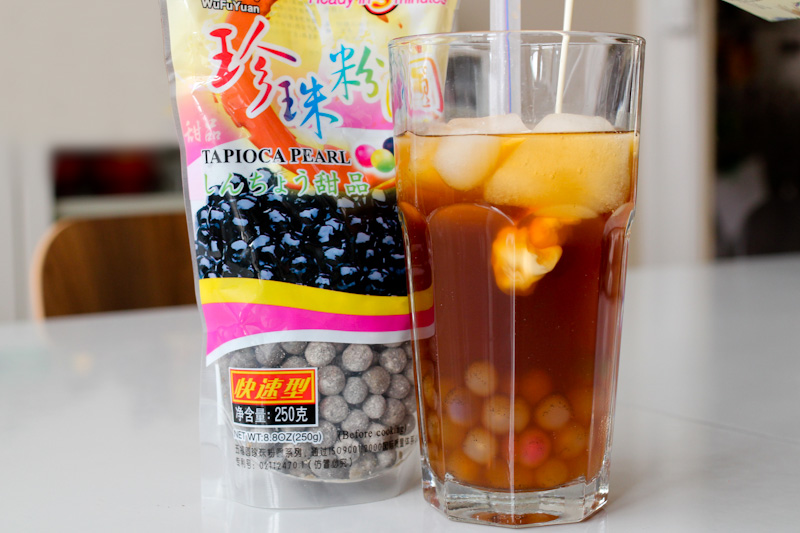 Bubble tea. Boba tea. Pearl tea. The drink recipes vary from tea to some kind of fruity juice, they can be iced or ice-blended, they all contain little chewy balls made of tapioca starch, often referred to as pearls. The pearls come in a colored and a black version. I had my first boba tea in San Francisco about 10 years ago and I was intrigued. It's more about the chewy gummy-like texture than the flavor of the boba. The pearls themselves don't have much flavor, but when soaked in a simple sugar syrup, they become sweet. According to wikipedia, the bubble tea trend originated from tea shops in Taiwain back in the 1980s. They have since spread and the last time I was in San Francisco's Chinatown 1 1/2 years ago, I noticed several new bubble tea cafés on Grant Avenue, which is the heart of Chinatown. Read more about the origin of boba teas and flavors here and take a look at ready to use colored bobas just below:
My personal  favorite is smoky thai iced tea with boba. A generous thai friend gave me a big bag of original thai tea bought in Thaitown, Los Angeles just before we relocated to Denmark. Thank you, Pawena!
Preparing thai tea
See instructions in the picture above. I made 6 cups of tea and sweetened it with 4 tablespoons turbinado sugar and 1 tablespoon honey. You need a thin filter to strain the tea eg. cheese cloth. I prefer half & half as creamer. Every good thai restaurant serves their own version of thai iced tea. It's sweet, smoky and creamy. I love it!
Cooking tapioca pearls
Tapioca pearls absorb a lot of water during cooking. So if you are preparing 1 cup /240 ml tapioca pearls, then use 5 cups / 1.2 l water. Bring the water to a boil, then add the pearls and cook for 30 minutes stirring once in a while. When done, turn off the heat and leave the bobas in the pot for another 30 minutes. Meannwhile prepare a classic simple syrup with 1 part water and 1 part sugar (or less sugar, if you prefer). Bring the water and sugar to a boil and take off the heat when the sugar is completely dissolved. You can experiment with brown and white sugars as well as honey, agave and maple syrup. Store tapioca pearls in the syrup in the fridge until ready for use.
Assembling your boba drink
Grab a tall glass and prepare your drink by adding 2 tablespoons of bobas (you only use the pearls, not the syrup), then pour in your sweetened drink, add a handful of ice cubes and finish with a splash of milk, half & half or cream and serve with a large straw:
For those of you lucky people in the LA area www.surfas.com has both tapioca pearls and large straws. For my fellow danes, I have discovered a little gem on Nørrebro: The Mad Hatter Bubble Tea Emporium. Definitely worth a visit! My favorites are matcha or taro. Enjoy!