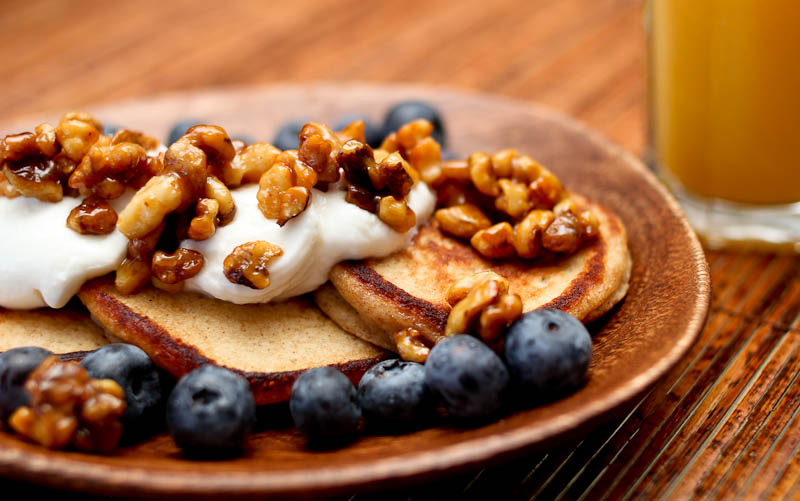 Sunday pancakes. Big hit for everyone, small and tall. This is how the recipe came to be. I had some applesauce in the fridge that needed to be put to use soon. The night before I read a small note in a Danish magazine, Femina, about how cinnamon was once more valuable than gold. The Chinese used cinnamon to treat fever, cough and digestional problems. The Egyptians used cinnamon to conserve food – and people. As in mummies! Anyway, get that image out of your head again. Cinnamon is now thought to improve the function of the brain, help you focus better, improve memory and more. Who knows for sure? It is definitely tasty. So I added cinnamon to the pancakes and here they are:
1 cup / 240 ml applesauce
1/2 cup / 12o ml milk
2 eggs
1 tsp butter, melted
1 cup / 240 ml flour
1/2 tsp salt
2 tsp baking powder
1 tsp cinnamon
Mix all the ingredients well.
Bake on buttered pan over medium heat. 2-3 minutes on each side.
Serve with caramelized walnuts, greek yoghurt and fresh berries.
How to caramelize walnuts:
Melt 1 tsp butter and 1 tbsp honey in a small pan. Add a handful of walnuts, chopped or whole, and stir for 3-4 minutes. Let cool. Done. Store in airtight container, if you have any leftovers. Honey is hygroscopic, which means it will attract moisture from the air, resulting in sticky, soft walnuts. So keep that lid tight! Enjoy!
Yields 20 small pancakes