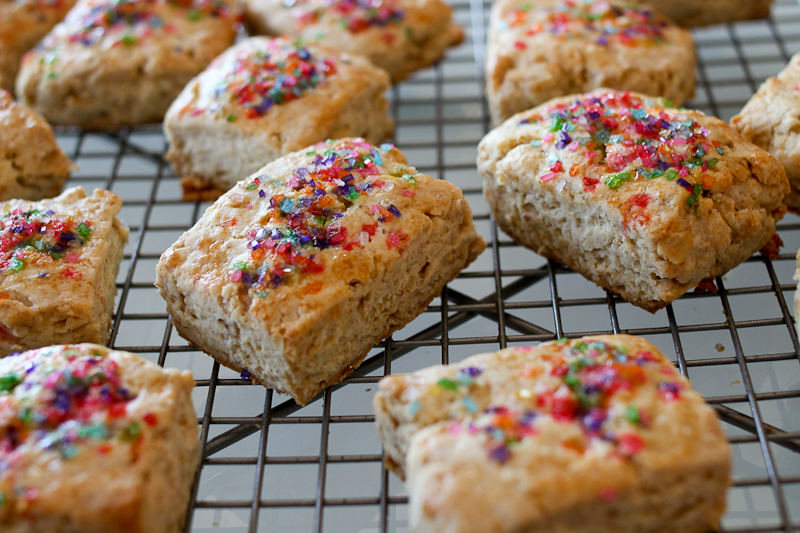 My sweet nephews were here visiting from Denmark. What a treat it was. In their honor, I made these maple oat scones for breakfast one morning. You don't have to sprinkle them with multi-colored sugar, but my nephews are 1 and 4, so they really appreciate a good dose of color on their food. My sister thought they tasted like oatmeal cookies, though not quite as sweet. Great quick and easy breakfast treat. The scones are adapted from Breakfast Lunch Tea , a book full of goodies from Rose Bakery in Paris.
A QUICK TIP on the butter: The colder the butter, the more flaky your scones will be. So don't overwork it and keep it cold until ready to use. I read a tip about keeping the butter in the freezer and then grating it. Not a bad idea at all.
1 1/2 cup /360 ml flour
1/2 cup / 120 ml whole wheat flour or spelt flour
1/2 cup 120 ml oats
1 tbsp baking powder
1/2 tsp salt
5 oz / 150 gr butter, cold
1/4 cup maple syrup
1/4 cup milk
2 tbsp heavy cream or 1 egg for glazing (lightly beaten), optional
Preheat oven to 400F/200C.
Put all the dry ingredients in a bowl and whisk them together.
Cut the cold butter into smaller pieces, add to the flour mixture and mix in the butter with your fingers until it resembles coarse sand.
Measure maple syrup and milk together and pour into the flour mixture.
Gently and quickly work the dough together. If it's too dry, you can add a little more milk and if it's too wet, you can add some flour. You don't want it too sticky nor too wet.
Put the dough on a chopping board and shape into a rectangle for square bites or a circle for wedges.  Cut into desired shape and glaze the scones, if you wish.
Bake for 15-20 minutes depending on size. Go for barely brown on the edges and light brown on the bottom.
Yields 20-24 (I like them on the smaller side)